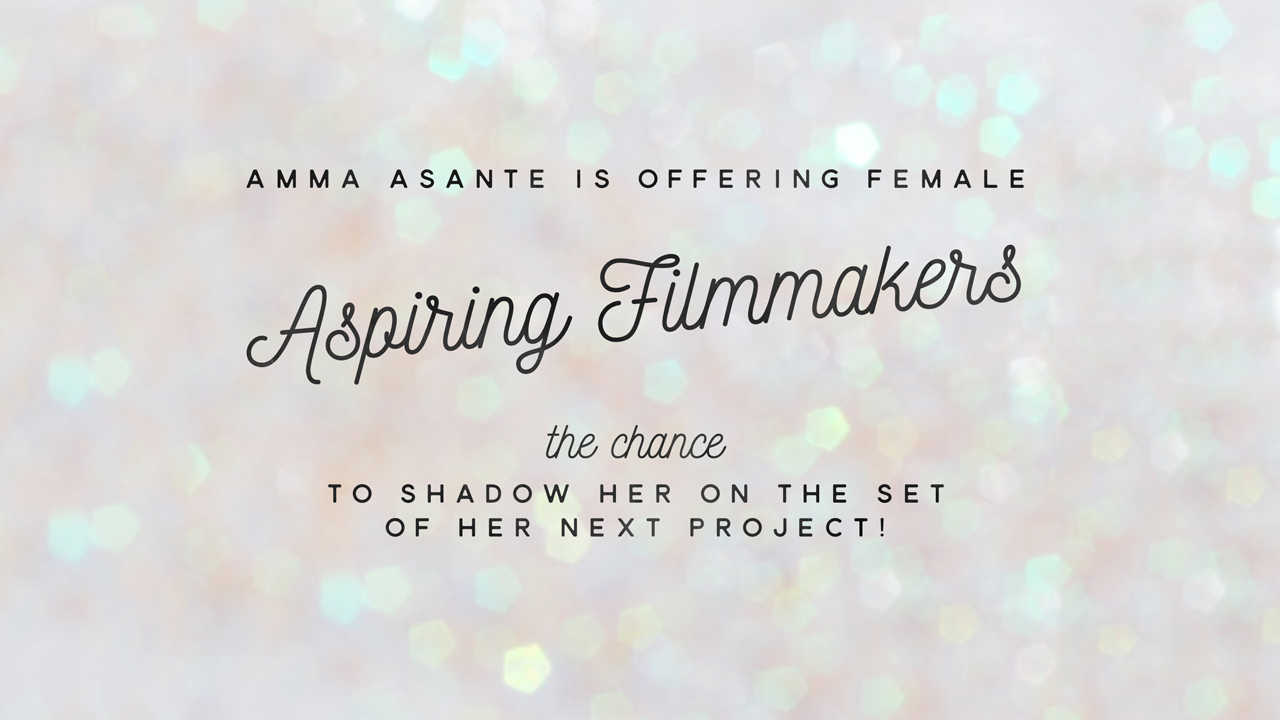 Are you serious and dedicated to making a career track in directing?
It's been a real pleasure connecting with you on Social Media, ever since Tom Felton – yes that baddie in BELLE – convinced me to join Twitter. Before I knew it, I had a couple of hundred followers and wondered what I might have to say to you all? What could I offer in interaction that might make me worthy of your follows!
Slowly it became clear.
I have spend the last 3 years sharing the ups and downs of my journey as a writer and director – from the highs of our BELLE World Premier at the Toronto Film Festival, to how I became uncredited for all of my writing for that project, in spite of several years of writing the words that you heard in the film, per my writing contract.
I have loved engaging with you, throughout. You uplift and encourage me and through our interactions, I have evidence that my work has a voice and connects with you.
I hope I am a small reminder for you that despite the inequalities in our industry, the goal of bringing your voice to the screen is one you have every right to pursue and to believe can be brought to fruition.
In that spirit, and in the spirit of pursuing change, a celebration of sisterhood and, in particular, a special thanks to YOU – those who engage with me daily on Twitter, Facebook, and Instagram, I am proud to offer two female aspiring directors the opportunity to shadow me on the set of my next film for a few days.
Who can apply:
You should be over 18 and there is no age limit.
You should be able to demonstrate through references (see reference section), that you are dedicated and serious about following a directing career path in film and/or TV.
Professional experience will not be the key. Determination, focus and the creative initiative that you have so far shown, to apply your voice to storytelling through images, will be.
The opportunity will be in Europe but an applicant can be based anywhere in the world, as long as she is able to be in the European country where the shoot will take place, when we are filming.
We are not able to cover travel expenses for successful applicants or pay any fee for this opportunity. Accommodation costs may be covered, however, this will be dependent on the financial capabilities of the applicant and will be decided on a case by case basis.
What to think about when you are applying:
This is an informal opportunity to observe me at work. To be clear: there will be no formal structure. As directors, we have very few opportunities to see other directors at work. Yet it can be invaluable in determining our own unique strategy for how we communicate our vision on set. You may watch me work and find that it reassures and confirms your techniques. Or you may reject a certain aspect of what I do, and in doing so become clearer about your own method.
This is not training. Therefore no 'training time' will be set. This will be about the successful applicant using their initiative to watch, learn, and ask questions at appropriate times.
This is not an assistant role and the successful shadow applicants will not be assisting on the film in any way. This is a great opportunity to hone in on the areas of filmmaking on set, that you really feel you want to know about and strengthen. I would suggest assessing your strengths and areas in which you feel you can build and really use the shadowing days to concentrate questions on those areas that you want to develop. I will find out through your application what you hope to gain from the process of shadowing and answering this question alone, should help me with understanding the areas that I can especially illuminate for you.
I will make sure that my crew and heads of department are also available to answer your questions and discuss processes with you, when possible.
How to apply:
This opportunity is now closed to the submissions process.
Shortlist:
A shortlist of applicants will be contacted by August 31st 2016
The shortlisted applicants will be interviewed before the final decision and successful applicants will be announced on September 13th 2016.
Thank you for applying. I'm excited about meeting the two successful applicants. Regardless I hope every single female director who applies, will continue on her journey to amplifying our voices and telling universal stories through her own unique female lens.