Ghanaian-British director Amma Asante's film Belle has taken America by storm and established her as a major talent. It's a long way from her days on the other side of the camera in Grange Hill…
Amma Asante sits at the corner table of a London roof-garden cafe on a bright morning – British-born of Ghanaian parents, she finds herself, as one of our most promising film directors, at a turning point in her career. It is a strange moment for her because, by some serendipitous twist, her first major feature film, Belle (her indie debut, A Way of Life, won her a Bafta in 2005), is about slavery and follows on the heels of Steve McQueen's Oscar-winning 12 Years a Slave. An impossible act to follow, you might suppose. Yet the two films could hardly be more different.
"I wouldn't want audiences to come to Belle and think they were about to see '12 Years a Slave Mark 2'," Asante says. Based in Britain and rooted in fact, Belle is an extraordinary story, she tells me: Dido Elizabeth Belle (1761-1804) was the daughter of John Lindsay, a British admiral, and an African slave. She grew up in Kenwood House, Hampstead, under the guardianship of Lord Chief Justice Mansfield – her father was Mansfield's nephew and, contrary to what you would expect of the period, she was raised almost as an equal to his other great niece, Lady Elizabeth Murray. The film – with Tom Wilkinson as Mansfield, Penelope Wilton as Lady Mary Murray and the bewitchingly beautiful Gugu Mbatha-Raw as Belle – pursues the possibility that she influenced her guardian into legal rulings that would eventually lead to the abolition of slavery. It has just opened in the US to a chorus of approval and with the unexpected distinction of beating the new Spider-man at the box office on its opening weekend in most of the cinemas in which it was screened (not to mention encouraging Oprah to tweet about it). But Asante is not a woman to swank and appears to have no sense of what seems certain from where I'm sitting: she is fated to be feted.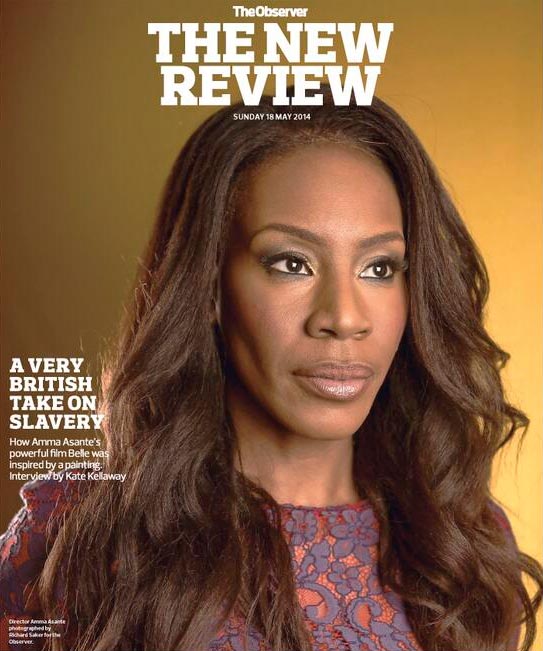 When she first heard rumours of McQueen's "slave movie", she was already filming her own. "I didn't know anything about the film itself. When you are making a movie, your head is completely buried." But she remembers being horrified by the demeaning phrase "slave movie" – as if it were now a genre. She had no idea the rival film was the story of Solomon Northup, who started out as a free man. But one should not be surprised at the collision: slavery does not go away as a subject – as today's abducted Nigerian schoolgirls threatened with being sold as sex slaves horribly demonstrates. In art, too, it crops up where you least expect it – take the National Portrait Gallery, where you can see (until July) the earliest British portrait of a freed slave, Ayuba Suleiman Diallo, accompanied by a poem by Ben Okri to dramatise his enigmatic history.
It would be grotesque were the power of 12 Years a Slave to eclipse the beauty of Belle. McQueen's film is a brilliant, raw, punishing tour de force. Belle is a costume drama "in the spirit of Jane Austen, it describes a genteel world that existed while the parallel world of slavery was going on". The film has a golden quality – without being sentimental or false. And it does what McQueen's film did not. It reminds us that the history of slavery belongs to Britain as well as to the US. In the 18th century, the British empire's economy depended on the slave trade. In Georgian Britain, there were about 15,000 black people – mainly in London – and less than a third of that population was free.
Zoffany
Lady Elizabeth Murray and Dido Belle, attributed to Johann Zoffany, 1779: 'I looked at that portrait and thought: oh my God, look how Elizabeth loves her!' Photograph: Courtesy of the Earl of Mansfield/Scone Palace
But before we pursue this further, I want to clear up a puzzle about the film's evolution. The screenplay is credited to Misan Sagay, the Anglo-Nigerian writer who started the project and who, after years of trying to launch it – with HBO initially – had to abandon it because of ill health. The film's authorship has been a contested issue but Sagay has been ruled, by the Writers Guild of America, West, as its author. Asante's involvement began at the point where Sagay left off, which meant that when producer Damian Jones sent her a postcard of the painting that inspired Sagay and that used to hang in Kenwood, attributed to Johann Zoffany(circa 1778), she was free to "derive from it whatever I wanted". She has invested a huge amount of energy into making the script work for her directorial concept of the film. It took four years to get made and Asante was, she has said, still doing rewrites on her wedding day.
"Everything you will have taken thematically from the film is what the portrait said to me the first time I saw it," she explains. In Zoffany's painting, Dido and Elizabeth are side by side in a country park. Elizabeth, in a lustrous pink frock, is given subtly preferential treatment: her pale complexion catches the light. Dido looks as if she is about to leave, an acknowledgement, perhaps, that it is unusual she should be in the frame at all. She holds a basket of fruit at a dangerous tilt. Her right index finger pensively stabs her cheek. Her playful expression is of a piece with the jaunty feather that tops her turban. Elizabeth detains her with a smile and a hand on one elbow. If not a picture of perfect equality, it is the friendliest of starts. "I looked at that portrait and thought: oh my God – look how Elizabeth loves her! I have never seen a person of colour in a painting from this period not being treated as a pet." And to prove the point, Asante includes in her film several late-18th-century paintings: black figures boosting white subjects, looking deferentially upwards from the corners of canvases.
What did Belle's face say to Asante? "It said: I am here. I'm relevant. I'm a lady. I'm brown. I'm made up of many things. I'm happy with who I am." What emerges in the film is that Lord Mansfield was happy with who she was too – their mutual affection a matter of historical record. According to a forthcoming book by Paula Byrne, before his death, Lord Mansfield left Belle a portrait of himself (slightly vainly perhaps) to remind her of "one she knew from her infancy, and always honoured with uninterrupted confidence and friendship". He also put in writing, lest there be any doubt after his death: "I confirm to Dido Elizabeth Belle her freedom." He was taking no chances.
Belle 2013
Gugu Mbatha-Raw and Sarah Gadon as cousins and fellow wards in Belle. Photograph: FoxSearch/Everett/Rex
It was in 1772 that Lord Mansfield first ruled that "chattel slavery was not supported by law". But the film focuses on the later and more dramatic Zong case, which he also oversaw. In 1781, the Zong, a congested slave ship, left Africa for Jamaica and after an epidemic on board, a third of the slaves – 142 men – were thrown into the sea. The captain's intention was to claim insurance money on their lives (at £30 each) and to insist their deaths were inevitable (they would pretend the water had run out). When it was discovered there was no water shortage – it had rained heavily – the insurers refused to pay up and the case came to court.
The point in the film where Lord Mansfield makes his ruling is thrilling and moving because, for him and his ward, this judgment was also personal. Asante was fascinated by the tension between "instinct and conditioning" in the characters. She is "obsessed" with Lord Mansfield, seeing him as a reluctant radical.
What makes Belle an overwhelming film is its warmth – the camera has a loving eye. "It was my loving eye," Asante says. And she admits: "I can't come to a character unless I love them." She explains how, when she starts on a film, she writes down "a couple of thematic words, then I fold the piece of paper, forget about it and hope the words I've written come back to me in people's reactions once the movie is made." The words, in this case, were "love and courage". But what she could not know, as she folded the paper, was how much love and courage she was going to need herself because, during the course of making the film, her father died.
She talks energetically about him, but her eyes are shining with tears: "He died in my arms and seven-and-a-half hours later, I was filming with a hundred extras in Middle Temple, the courtroom scenes. Since his death, my world has not stopped ricocheting. The shock of seeing my father take his last breath – it still hasn't left me." She adds: "This movie only existed because my dad strived to create the tenacity and will in me to fight for it [it was four years before Fox Searchlight took it on]. Lord Mansfield is based on my father."
As she talks, it becomes clear the extent to which her father is key. Asante grew up in Streatham. When her father first came to Britain, he was cleaning tables and the family lived in one room without electricity and took baths in a tiny plastic tub. Her mother worked as a cleaner too, and later ran the family-owned African deli. Their fortunes changed when her father managed to qualify as an accountant.
He was loving but strict. His repertoire of sayings included the words: "What is right can never be impossible." These became Asante's touchstone: "My father would repeat that line to me – oh God, on a thrice weekly basis, there was no way I wasn't going to pay homage to him by having those words [given to Belle's father] in the film.
It was Asante's father who unexpectedly (given his conventional attitudes) decided to enrol her at the Barbara Speake Stage School in Acton as a child because, her older sister now maintains, he was worried that she was too shy to thrive. The school was "exceptional". Schoolmates included Kwame Kwei-Armah, Michelle Gayle and Naomi Campbell – all still chums. "The interesting thing about the people I have mentioned is that they are all British and black. I grew up with a generation at school who refused to see obstacles as a full stop or the end of the game."
She is matter-of-fact about the tiny number of black directors that get to the top, agreeing that she and Steve McQueen are "exceptions that prove the rule". She tells no tales yet recalls how, before making Belle, she had to defy people who would say: "Isn't this film too big for you?" Out-and-out racism (or sexism) is sometimes easier to deal with than oblique put-downs: "In a sense, I preferred it when the National Front threw bottles at us because at least we knew where we stood."
Asante started as an actor and was a regular on BBC's Grange Hill. Does she see directing as a performance too? "It is like being a barrister. No matter how you feel when you wake up, you have to be a team leader every day, hour, minute. If you let the ball go for a second, you'll see the results on screen and pay for it for the rest of the film's life and you can't afford to do that. There are many ways to lead – as women, we know that."
For her, what matters is having a "passion for the project and a vision. As a director, you are the only person carrying the bigger picture and every tiny detail. It is about keeping a cohesive, creative, motivated vibe going." When she's directing, she says, she's "wired" to the point that after shooting from 6am to 9pm, she still has energy for the next day's story boards and a quick check on the actors in their hotel rooms.
Asante's hallmark as a director is her refusal to oversimplify. Her first film, A Way of Life (2004), which won a best new British talent award at the London Film Festival, was set in a post-industrial town in south Wales. It was about a group of white teenagers who persecute and eventually murder their Turkish Muslim neighbour. The film's unsettling power derived partly from Asante's understanding of the bigoted white teenagers, the hardship of their lives, the dysfunction and deprivation behind the violence. In contrast to the gilded look of Belle, the film's style was grey and raw – hard to believe it was not a documentary. And the writing was spot-on (it was for this, as well as for her direction, that she won the Carl Foreman award at the 2005 Baftas). Leigh-Anne, its white teenage mother, says to her Turkish Muslim neighbour: "You are in someone else's country. Show a bit of respect, all right?", to which he replies with dignity: "I have been here 30 years. How long you been here?"
As the child of immigrants, Asante has always had an "extra eye" and sees herself as an insider and outsider (all directors, she believes, need to be emotionally ambidextrous). She chose Mbatha-Raw as Belle because, as a serene black figure in 18th-century finery, she is able to be "familiar and unfamiliar at the same time". Her "innate grace fits the period and yet you look at her and say: she makes sense – and doesn't."
Asante understands Belle because: "Although I'm not bi-racial, I'm bi-cultural, I walk that division every day subtly and unsubtly, consciously and unconsciously. I am that familiar and unfamiliar character in the world." She adds that she speaks Ghanaian and accentless English – and that her parents, typically of Ghanaians, "speak English impeccably. My mother will quote you John Donne and Shakespeare at the drop of a hat in her beautiful accent."
What is striking is how Asante's life, although so different from that of the subject of her film, fed it. She maintains that even her south London upbringing contributed and quotes the line where Belle advises Elizabeth: "Wait for no man." This advice, a south London staple apparently, is sure to get a laugh of recognition when screened there. She has a territorial fondness for south London, rejoices in its mixed community, and can't stand the way people typecast it as turbulent although she adds: "I'm 44 and grew up through both Brixton riots." She remembers her brother being stopped by the police because he had a rucksack on his back. It was full of science books (he is now a scientist). "I grew up fearful of the police, which is interesting," she laughs, "because I am now married to a policeman…"
And with the same openness with which she talked about her father, she tells the story of falling in love with her second husband (her first was the producer Charlie Hanson). Nowadays, she lives in the Hague. When I ask whether Holland chose her or the other way round, she explains that, in 2007, love struck. She was working for a Los Angeles studio between movies: "I was researching Europol agents because I was trying to create an uber policewoman. Europol is the FBI of Europe – or so I am told – and the man I was sent to meet was Soren Pedersen, spokesman for European police in the Hague."
Belle's love story (she falls for an apprentice lawyer, John Davinier, who was, in real life, a manservant at Kenwood) is intended to "honour our love story". And she picks up the thread of her own story again delightedly: "Soren and I had one date and decided to move in and get married." I express disbelief. "I know! I'm a crazy woman. But I looked at him and thought: he is going to be my husband. And I didn't want to waste time because I was 37 and didn't have time to waste."
If the implication is that she hoped for children (she mentions exuberantly that she wishes she could have adopted the girl who plays young Belle – an identical twin) she is not one to languish: "We're happy with our little dog [a Yorkie] and living on the marina. Holland is very much real life for me. It has nothing to do with showbusiness because I'm not connected with the Dutch film-making world." She paints a picture of herself strolling along in flip-flops, dog at her heels: "You have to have a life because if you don't, you can't bring anything to film-making."
Post-Belle, Asante is unlikely to do much uninterrupted strolling. Her next job is to make her first Hollywood studio movie – for Warner Brothers. In Unforgettableshe will be working for the first time "purely as a director" – leaving the writing to others. The casting is still "under wraps" but will include "two A-list Oscar-winning ladies". It is about a second wife terrorised by a first wife. "What interests me is that it looks at issues I love – to do with position, identity and status. Who are you when someone takes a part of your identity and moves on? As a second wife, you have to step into the shoes of someone else. I am a second wife so I know what that feels like. I call the film my there-but-for-the-grace-of-God-go-I piece. If we come from the premise that we all have a tipping point, what is the perfect storm that would tip you over the edge?"
Shooting will start in the American south in the autumn – "because it is too hot in the summer and working with two A-list actresses in the blistering heat might not be so much fun". I don't know about that. My hunch is that there is no such thing as too darn hot when it is Amma Asante you are talking about.